07 Oct 2022
UCX USA to Revolutionize the Future of Work and Customer Tech through Connections-First Event in 2023

Shelton, CT – Clarion Events announces UCX USA, the newest event in the unified communications and collaboration industry. UCX USA will be held in Austin, Texas, on September 13-14, 2023. Connections will be at the heart of the inaugural UCX USA in the form of unparalleled peer-to-peer networking, best-in-class matchmaking, and a cutting-edge conference program which will inspire future workplace strategies. The event will also showcase more than 40 featured companies spanning best in class employee and customer experience technologies providing solutions for companies of all sizes across every sector. UCX USA is owned by Clarion Events, proud owners of UCX Europe, the EU's leading unified communications & collaboration event since 2011. UCX Europe attracts 8000+ visitors and 100+ exhibitors including the world's leading brands.
"Our ongoing conversations with end-users, analysts, consultants, vendors and partners confirmed there is a gap in the US market to serve unified communications and collaboration industry professionals," said Angela Harar, Portfolio Director, Clarion Events. "We were asked to launch an alternative to existing US events; something different, something experiential and something that guarantees value."
UCX USA is endorsed by the Interactive Multimedia & Collaborative Communications Alliance (IMCCA) and supported by The Society of Communications Technology Consultants (SCTC), AV User Group and UC Today and has received early commitments from AudioCodes, BIAMP, BlueJeans by Verizon and QSC to sponsor the event.
"The IMCCA is proud to partner with Clarion to make UCX USA a terrific opportunity to grow the collaboration industry through agnostic education and valuable networking opportunities," said Carol Zelkin, IMCCA Executive Director and UCX USA Advisory Board Member.
With guidance from its world-class Advisory Board comprised of leading end users, analysts, supporters, and vendors, UCX USA is aligned to address the biggest organizational challenges of the day for unified communications and collaboration professionals attracting a highly qualified and engaged audience.
"UC&C has become a business-critical issue for organizations of all sizes. Demand for UC&C events now outweighs supply, particularly in the US," said James McGough, Manager Director, Technology, Clarion UK. "UCX USA aims to offer exceptional value while providing an interactive and valuable experience."
The content, overseen by Education Task Force Chairperson, Irwin Lazar, President and Principal Analyst of Metrigy, is designed to foster peer engagement to co-create the future of connections – with employees, customers, and communities. Developed in partnership with IMCCA and UCX Europe, the agenda will feature over 50 speakers presenting on topics including but not limited to: The Future of Work: How Do We Define the New Future and Move Forward Together; Creating Shared Experiences Through Tech Despite a Hybrid Workforce; Collaboration and the Future Office; How to Make Collaboration Easy for Everyone; and The Future of Hyper-Personalization and First Customer Contact.
UCX USA will take place at Fairmont Austin, the city's playground for sophistication. Designed to exceed expectations and offer the highest level of luxury in downtown Austin, the property sits at the heart of the city's vibrant culinary, tech, arts, music, and nature scenes.
To watch the full announcement, click on the image below: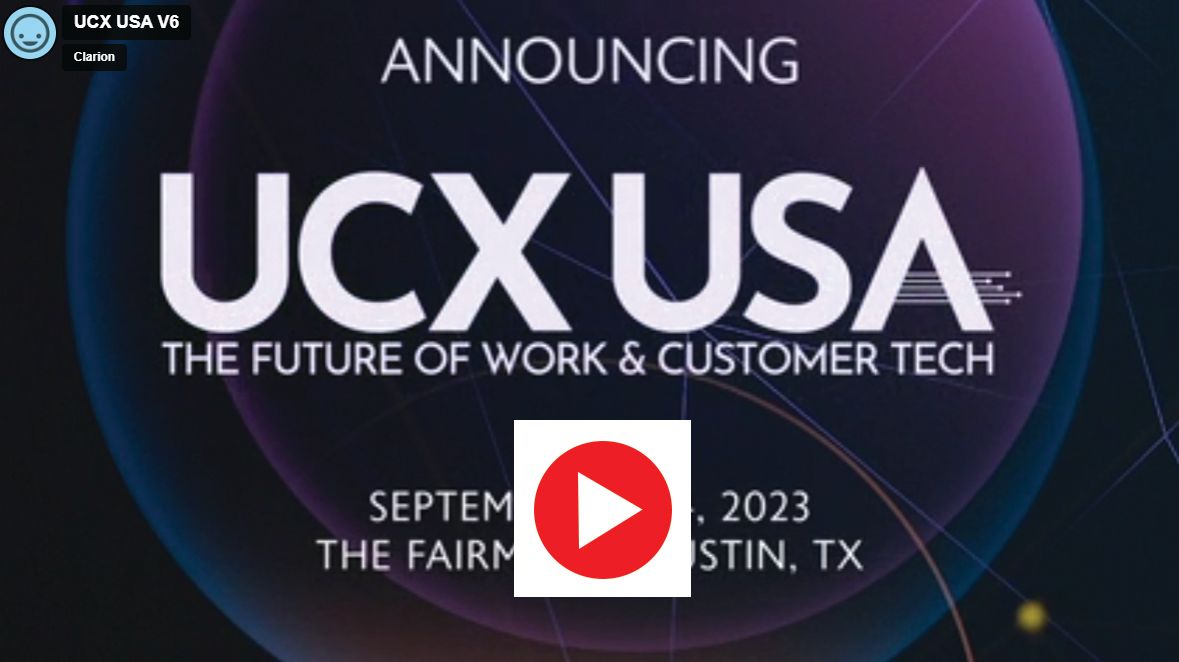 About UCX USA:
UCX USA covers the latest technologies, trends, and unified communication models, as well as the rapid transformation of how we collaborate - all in a setting designed to foster critical relationships. The event provides a platform for branded manufacturers, business leaders, startups, tech companies, investors, media, and analysts to learn, network, collaborate and evolve. With networking and thought leadership at its core, UCX USA leads the collaboration and communication industry narrative and promises connections, industry insights and peer perspectives.
About Clarion Events:
Clarion Events operates over 180 events in 50 countries from 15 offices in the UK, the US, South Africa, Brazil, Germany, Singapore, UAE, Indonesia, Hong Kong, and the Netherlands. Clarion can trace its roots back to 1947 and takes great pride in being one of the oldest independent event organizers in the UK. More recently the firm has developed an international portfolio of brands and now has interests in a number of global vertical industries including energy, security and defense, electronics, technology, fashion, retail, gaming and marketing. The teams at Clarion create uniquely effective and stimulating environments that can serve as a platform to build businesses, enhance customer relationships and accelerate product awareness. us.clarionevents.com.

To learn more, please visit the UCX USA website and follow UCX USA on Facebook, Instagram, Twitter, and LinkedIn.
To sign up to receive updates on UCX USA, please click here.
Media Contact:
Kristie Brown, UCX USA Marketing Manager
Kristie.Brown@clarionevents.com