05 May 2023
All The Unified Comms Brands You Need To Know About
The world of unified communications involves all sorts of brands that provide all sorts of different services.
From pure play unified comms providers to resellers and integrators, there's a lot of unified comms brands you need to know about.
Below, we detail all the unified comms brands we think should be on your radar for 2023 and beyond.
Let's start with those who provide their own core unified comms platform.
Unified comms platform vendors
1 - Avaya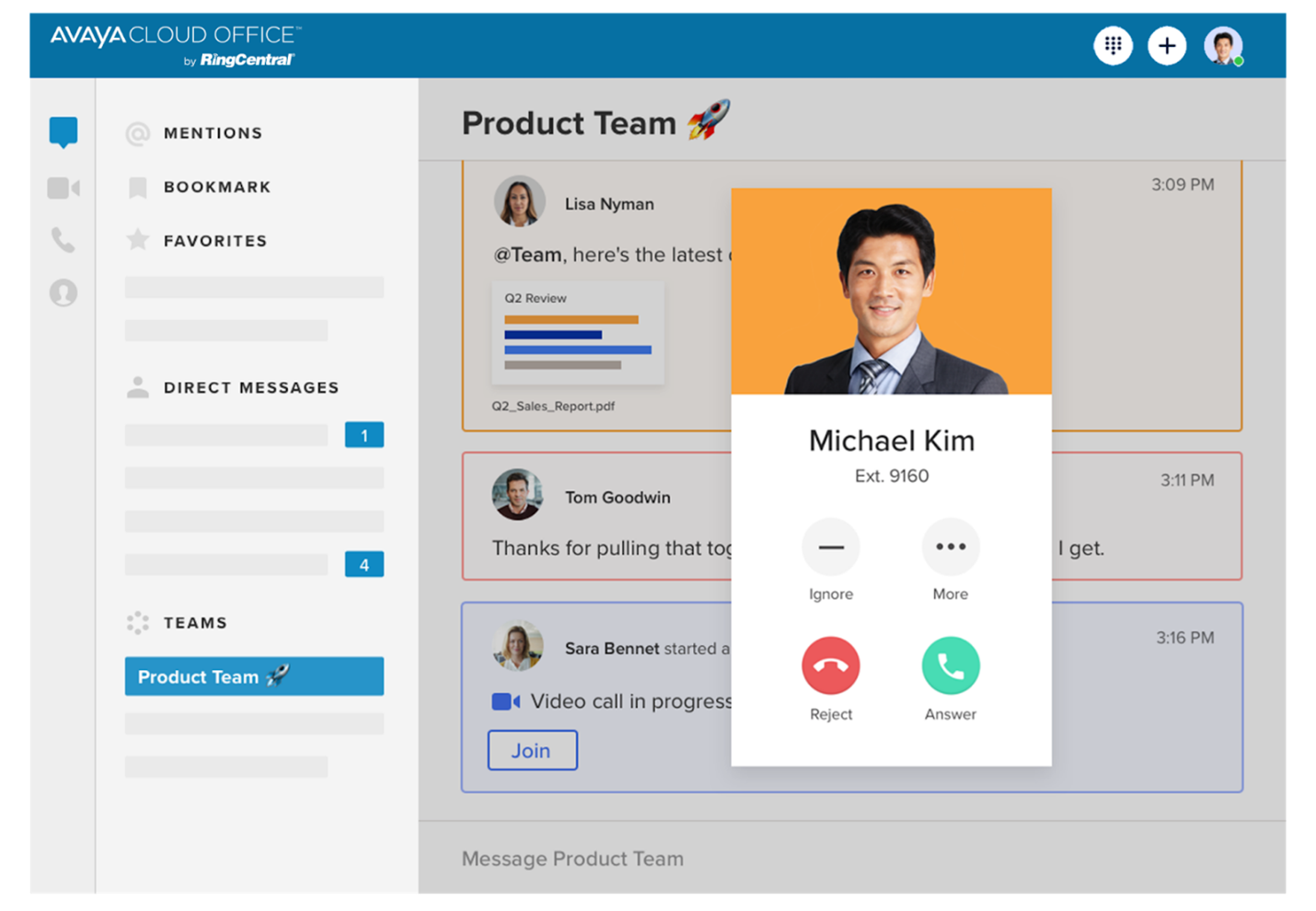 Website: https://www.avaya.com/en/products/ucaas/
Avaya is a long-standing telecoms operator with a history in on-premises communications deployments. As Avaya moves into cloud communications, its focus is on migrating its existing client base onto its UCaaS platform.
In 2020, Avaya agreed to underpin its UCaaS offering with RingCentral's VoIP. Avaya Cloud Office combines RingCentral's platform with Avaya phones, services, and migration capabilities as a single solution.
Also provides: Handsets | Contact Center | Professional Services
2 - Cisco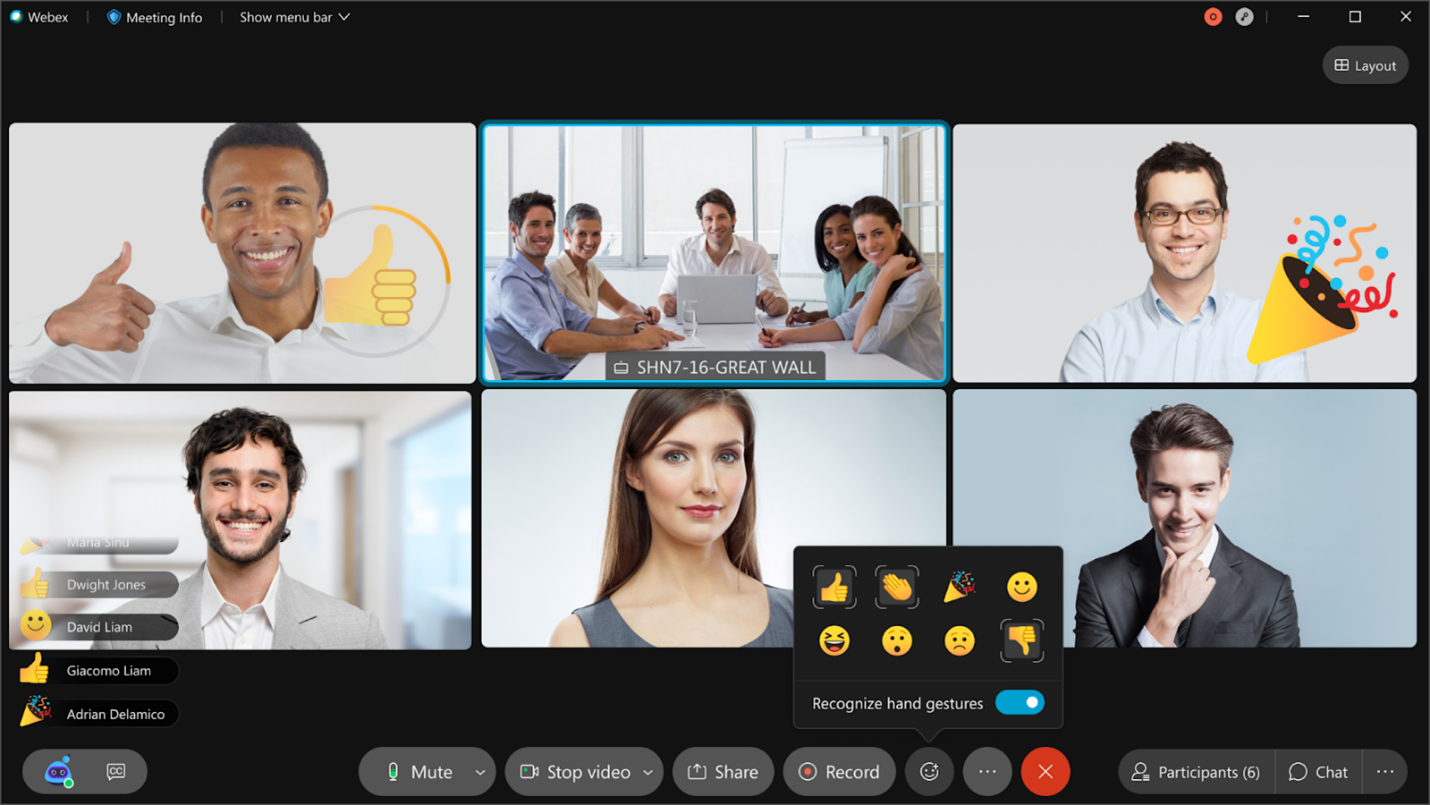 Website: https://www.webex.com/all-new-webex.html
Having led the online meetings market for over a decade, Cisco recently merged its meetings, calling, and chat capabilities into a single unified Webex app. As a result, Gartner now recognizes Cisco as a leader for UCaaS.
Formerly Jabber and then Webex Teams, Webex customers can schedule and launch meetings from the familiar interface while managing channel and direct messages from the same place.
Webex suits large-scale deployments with complex in-room and broadcast requirements.
Also provides: Handsets | Conferencing | Contact Center | Networking | Security
3 - Dialpad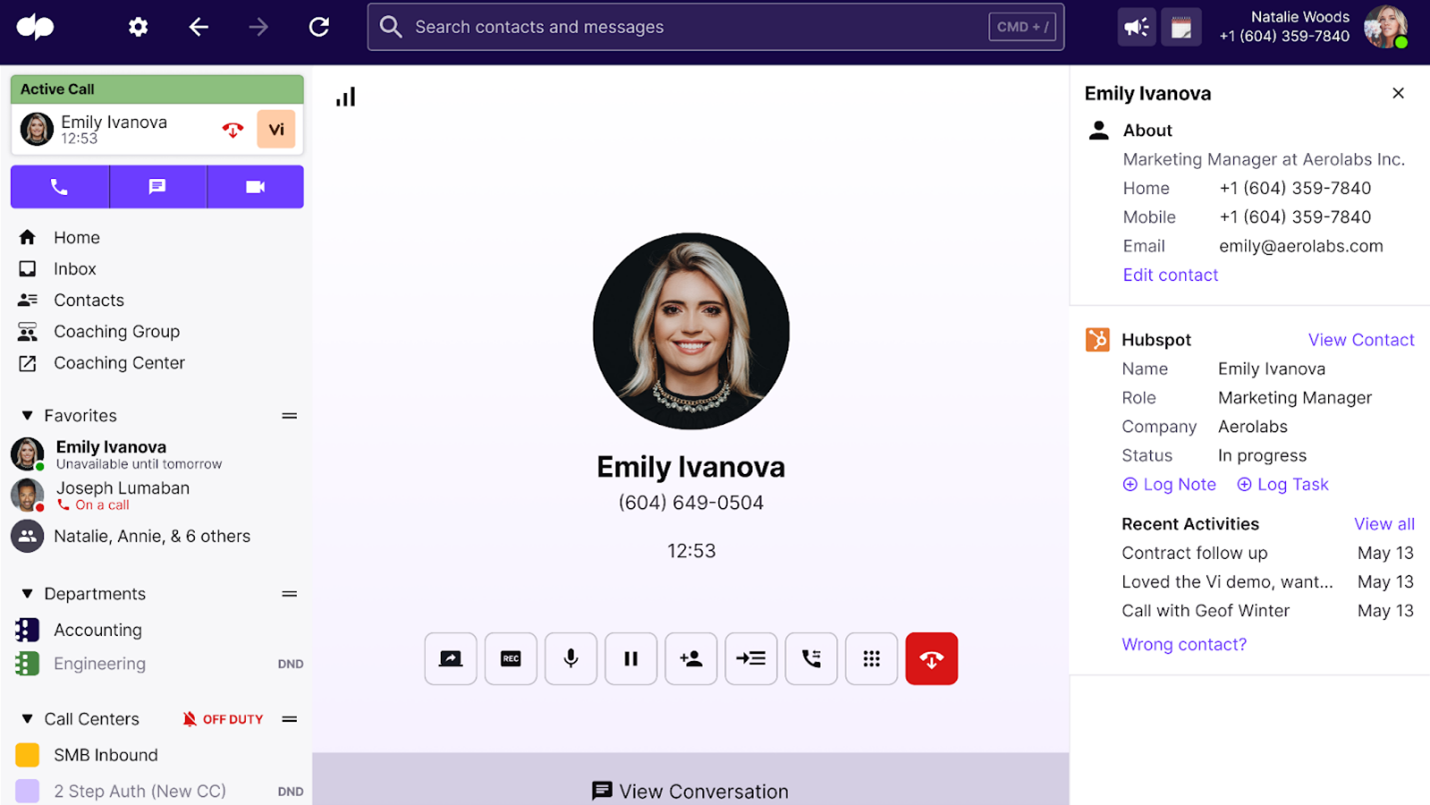 Website: https://www.dialpad.com/business-communications/
Recognized by Gartner as a challenger in the UCaaS market, Dialpad provides a calling, messaging, and meeting platform influenced by AI.
When acquiring TalkIQ, a real-time voice recognition platform, it added a differentiator to its portfolio. As such, Dialpad is a winner with call center agents who need to support back office interactions. The added agent assistance through AI provides coaching and sentiment analysis to ensure no upsell opportunity is missed and no customer goes unhappy.
Also provides: Contact Center
4 - Google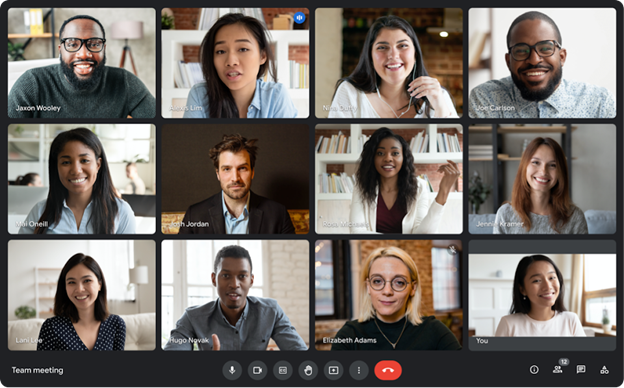 Website: https://workspace.google.com/business/
Google Workspace is commonplace in many small businesses and is a favorite with startups. But it's also packed with UCaaS features ideal for enterprise collaboration.
With several plans available including voice, chat, and meetings, businesses can choose from free access to basic functionality to a business plan with up to 500 video meeting participants and enterprise security eDiscovery and retention policies.
Also provides: Contact Center
5 - GoTo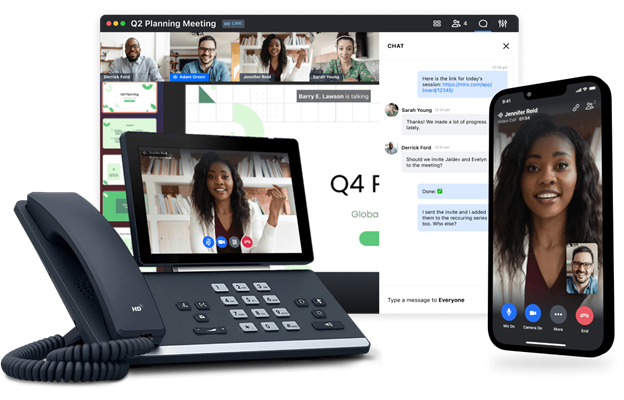 Website: https://www.goto.com/ucaas
Having merged with LogMeIn, the companies rebranded as GoTo in February 2022. Formerly GoTo Meeting and GoTo Webinar, GoTo now hosts a full UCaaS suite including chat, calling, and meetings.
There is also a new addition of GoTo Connect which supports direct routing for Microsoft Teams; so you can use Teams as your interface and underpin it with GoTo's VoIP calling.
Also provides: Contact Center | Conferencing | Remote Access
6 - Microsoft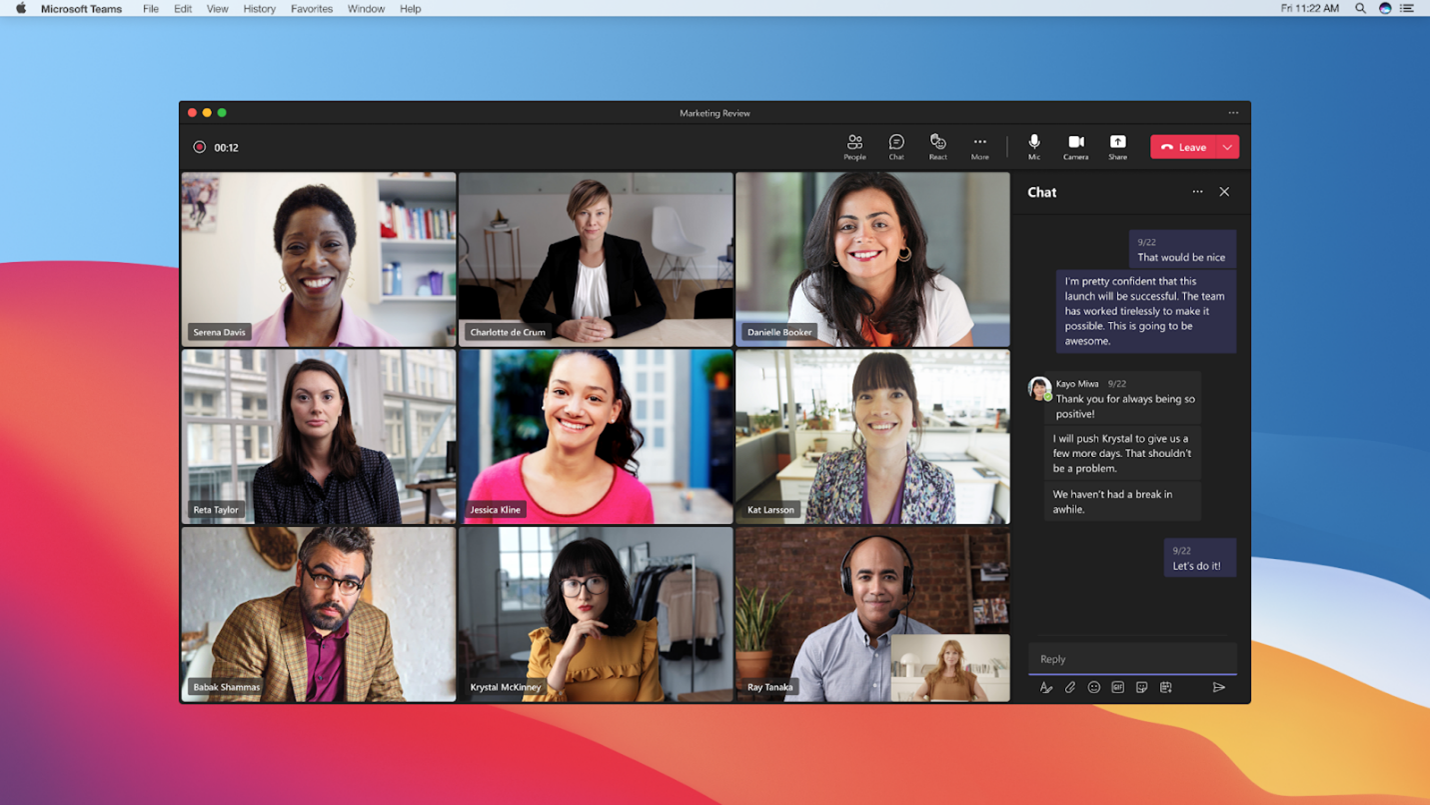 Website: https://www.microsoft.com/en-us/microsoft-teams/group-chat-software
A long-time leader of meetings and chat with Skype for Business, Microsoft Teams superseded this technology to add channel-based and asynchronous messaging.
Now with several options for calling (native, direct routing, operator connect), Microsoft can now consider itself a genuine UCaaS platform. In fact, Gartner recognized Microsoft as a leader in the 2022 Gartner Magic Quadrant for UCaaS.
Also provides: Contact Center | Conferencing | Networking | Security
7 - Mitel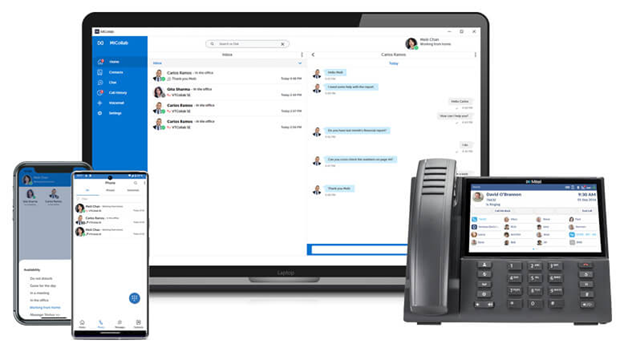 Website: https://www.mitel.com/en-gb/products/applications/collaboration
Mitel is one of the few unified comms providers that still provides an on-premises platform as well as a cloud version. It also maintains standalone options like MiTeam Meetings for those looking for a decoupled platform.
MiVoice Office delivers a basic version of phone system capabilities whereas MiCollab offers modern digital options like chat and channel-based collaboration.
Also provides: Contact Center | Mass Notifications Broadcast
8 - Nextiva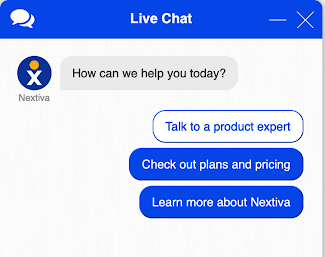 Website: https://www.nextiva.com/products/collaboration.html
Nextiva has a niche focus on small businesses looking for a quick setup and self-service UCaaS solution. But that's not to say it's lacking in features. Expect calling, chat, and meetings all built into a friendly interface with deep collaboration capabilities and integration options.
Nextiva provides two options for an integrated contact center: its own call center module and a unique cloud integration with Five9.
Also provides: Contact Center
9 - RingCentral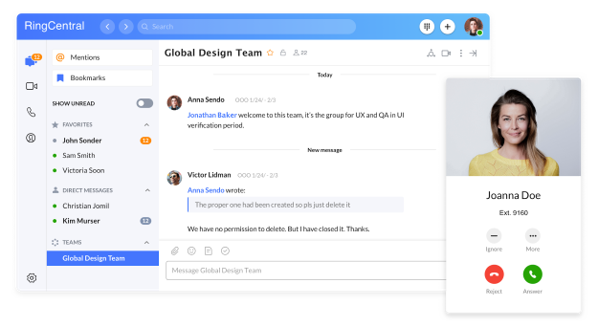 Website: https://www.ringcentral.com/office/how-it-works.html
RingCentral is the Gartner Magic Quadrant leader that stems from a core VoIP offering (as opposed to meetings like Cisco, Microsoft, Zoom).
Having recently expanded its meetings, calling, and chat capabilities, RingCentral now includes optional add-ons for webinars, room systems, and customer experience. As a result, RingCentral has moved from a small business specialist to a genuine enterprise consideration.
Also provides: Contact Center
10 - Sangoma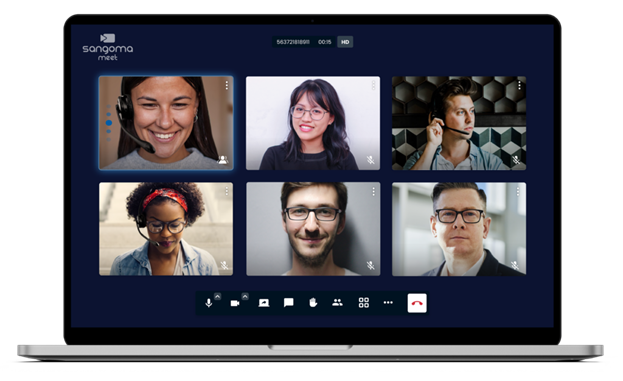 Website: https://www.sangoma.com/solutions/
Sangoma offers an on-premises, cloud, and hybrid version of its Switchvox unified comms platform. And it does so to cater to its specialized sectors:
Assisted living
Education
Finance
Government
Healthcare
Manufacturing
Quick-service restaurants
Due to regulation, access, and pace of digital transformation, these industries are often the last to embrace modern communications technologies. Sangoma specializes in providing a gap solution as these businesses tread their path to the cloud.
Also provides: Handsets | Networking
11 - Vonage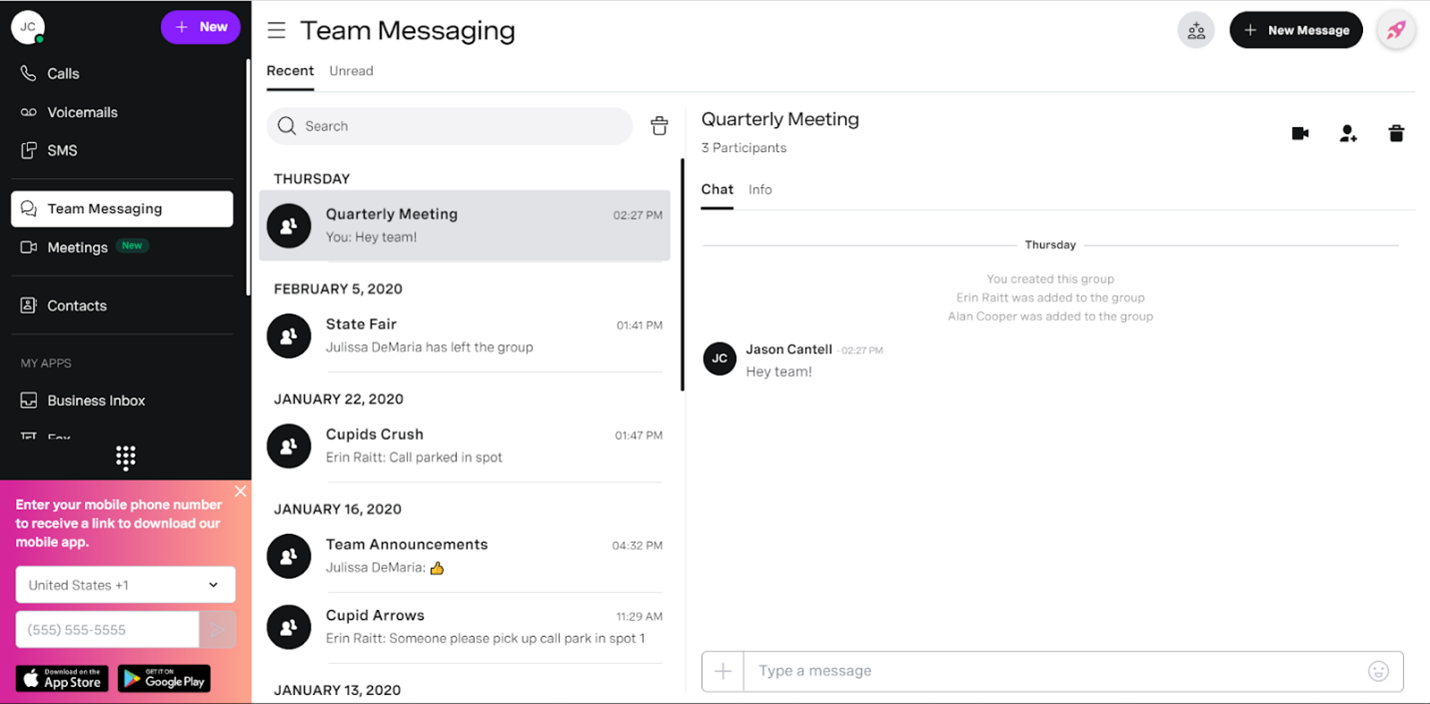 Website: https://www.vonage.co.uk/unified-communications
Following key acquisitions of Nexmo and NewVoiceMedia in the 2010s, Vonage was acquired by communications equipment giant, Ericsson, in 2021. Rather than opting for a rebrand, Vonage lives on with a UCaaS solution offering chat, calling, and meetings from a single app.
Vonage also has key integrations with Microsoft Teams and Salesforce, recognizing the likelihood of target enterprise customers using at least one of these platforms.
Also provides: Contact Center
12 - Wildix

Website: https://www.wildix.com/product/collaboration/
Wildix specializes in providing a simplified interface and web-based UCaaS option, ideal for users unaccustomed to digital apps and juggling different workflows.
Positioned as a niche vendor by Gartner in its 2022 Magic Quadrant for UCaaS, Wildix focuses on providing solutions for European markets through its 100% partner-focused resale program.
Also provides: Handsets | Contact Center | Networking
13 - Windstream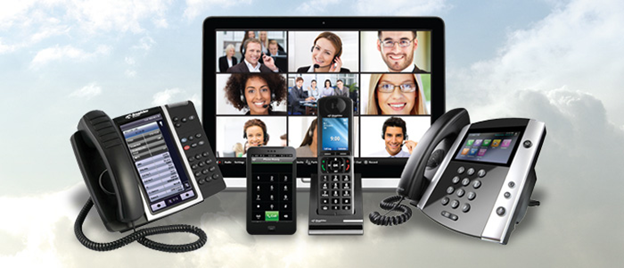 Website: https://www.windstreamenterprise.com/solutions/unified-communications/
Windstream provides a meetings-only app as well as a combined UCaaS app for chat, calling, and meetings.
Windstream has an extended five-month trial period and has been named as a niche player in the Gartner Magic Quadrant for UCaaS in 2022—its fourth year in a row.
With over 90% of its install base classed as SMB, Windstream often bundles its UC package with its connectivity and networking packages, allowing for them to rarely be beaten on price.
Also provides: Contact Center | Networking
14 - Zoom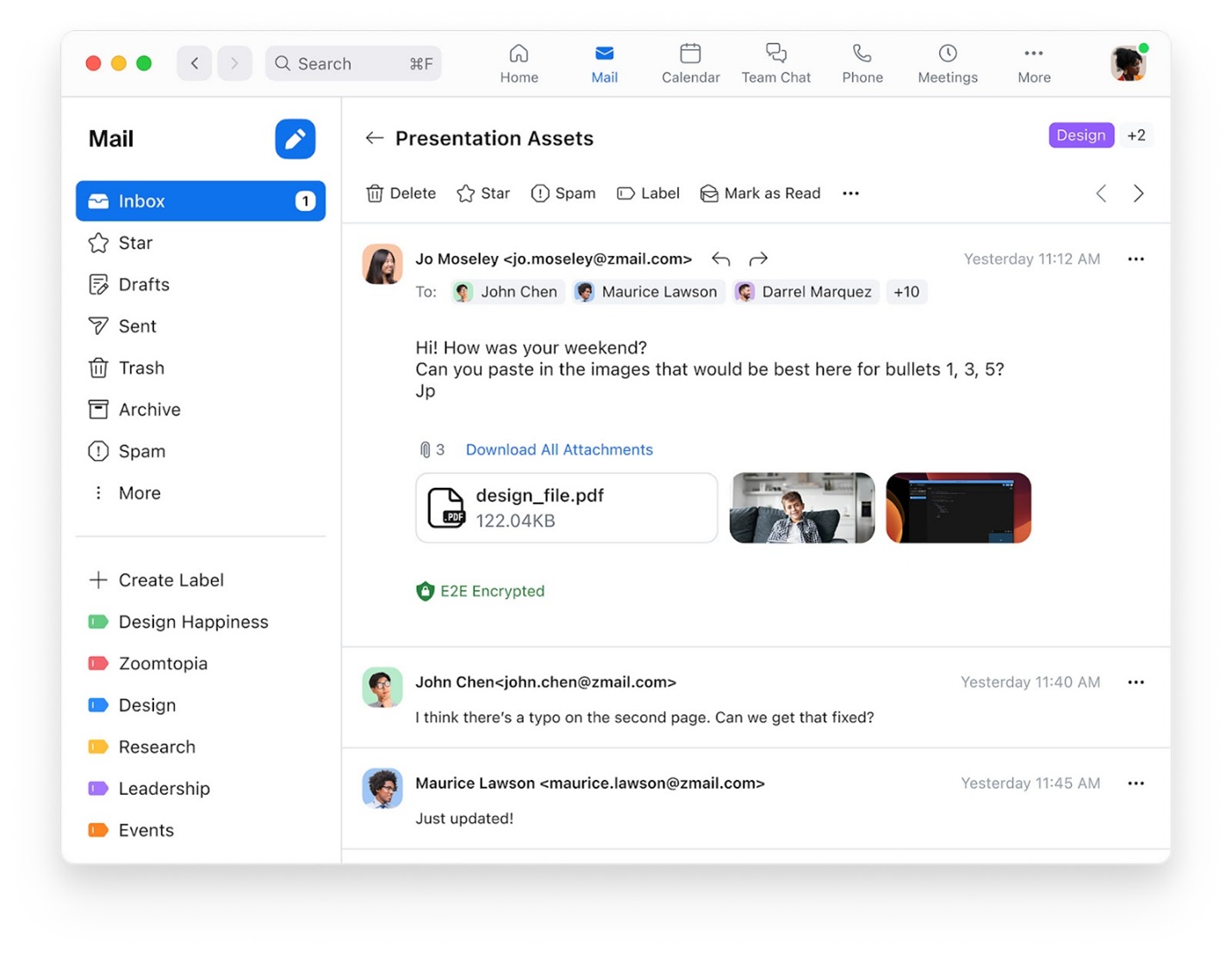 Website: https://explore.zoom.us/en/unified-communications/
Following its rapid growth from a consumer-friendly meetings platform during the coronavirus pandemic to announcing four million business VoIP seats, Zoom was named a 2022 leader in the Gartner Magic Quadrant for UCaaS in 2022.
In addition to its calling, chat, and meetings capabilities, Zoom announced the availability of a Mail and Calendar client built into its unified app, during its annual conference, Zoomtopia—making it the first of any of the leading unified comms providers.
Also provides: Contact Center | Conferencing
15 - 3CX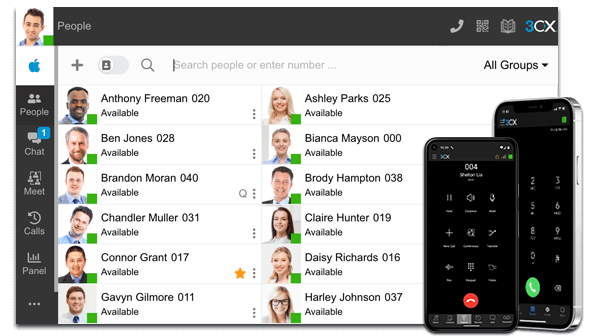 Website: https://www.3cx.com/
3CX provides a web browser and mobile app for "no hassle" calling, video conferencing, and chat. As standard, you can combine Yealink handsets for users wanting the familiar handset feel.
With a focus on simplicity, the larger scale features like project-based working are omitted from 3CX. But, for smaller teams, you can get up to 10 users free forever and enable basic communications functions.
Also provides: Contact Center
16 - 8x8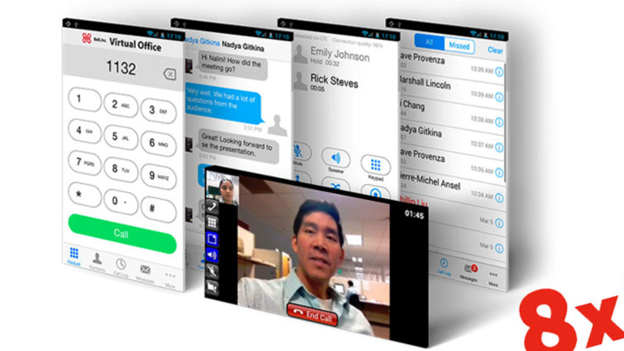 Website: https://www.8x8.com/products/team-chat
8x8 has spent the best part of the last decade integrating disparate communication elements into a single app, its 8x8 eXperience communications platform.
Featuring calling, meetings, and team chat, as well as the option to have your contact center module included in the same interface, 8x8 is a solid option for businesses with a need for collaboration between contact center agents and back office specialists.
Also provides: Contact Center
Unified comms resellers
The next unified comms brands on our list are resellers of one or more solutions.
These brands play a huge part in the unified comms ecosystem, often piecing together extra parts of your IT or communications strategy that might not be catered for by a single platform vendor.
1 - Alcatel-Lucent Enterprise (ALE)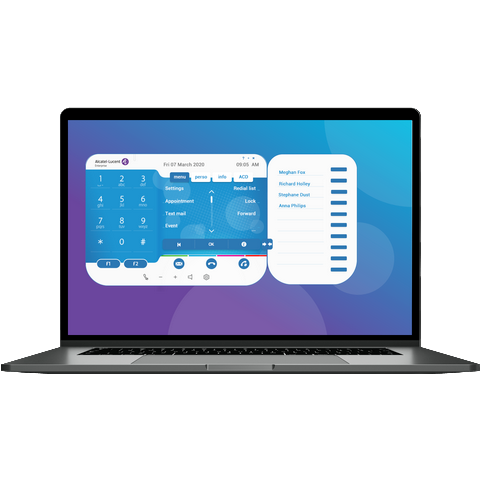 Website: https://www.al-enterprise.com/en/solutions/unified-communications
Alcatel and Lucent merged in 2006 to provide a suite of enterprise communications services.
As the name suggests, the focus is on enterprises. ALE has a core focus on the following industries:
Education
Healthcare
Hospitality
Government
Transport
Its Rainbow Office solution is powered by RingCentral's UCaaS platform under the hood.
ALE also provides contact center, switches, wireless LAN, and networking management services.
2 - Atos Unify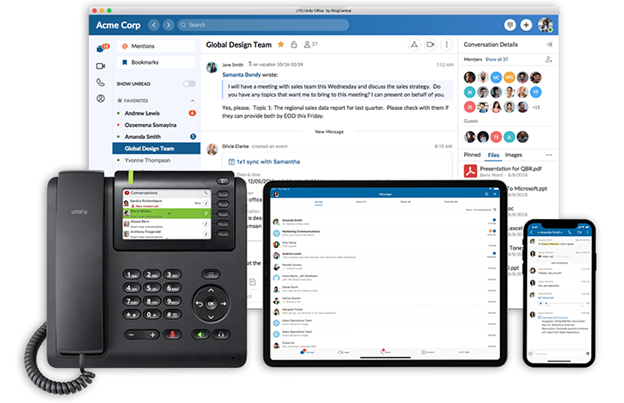 Website: https://unify.com/en/lp/unifyoffice
Another telecoms brand that had its own platform, Atos Unify is now a reseller of RingCental services for unified comms.
For worldwide Atos customers of high-performance computing, data analytics, and edge computing infrastructure, Atos' acquisition of Unify in 2016 opened the door to moving all IT and communications technology under the same brand.
3 - AT&T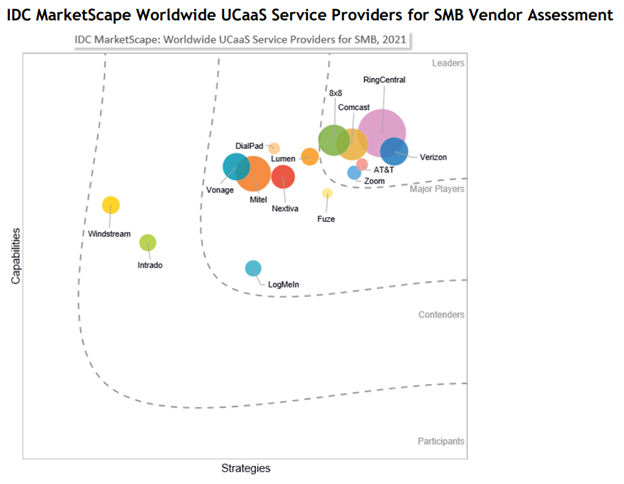 Website: https://www.business.att.com/
AT&T needs no introduction in our personal lives and is also one of the leading unified comms resellers in the US.
IDC MarketScape recently recognized AT&T as a leader for UCaaS thanks to its tier 1-backed solution based on its security, industry compliance, and network redundancy.
When you have a network as reliable and complex as AT&T, integrating your unified comms solution is a serious consideration for large enterprises looking for one provider to look after everything.
AT&T Business has solutions tailored for small, medium and enterprise, and public sector companies. Each has different platforms and components carefully selected to cater to differing requirements.
4 - T-Mobile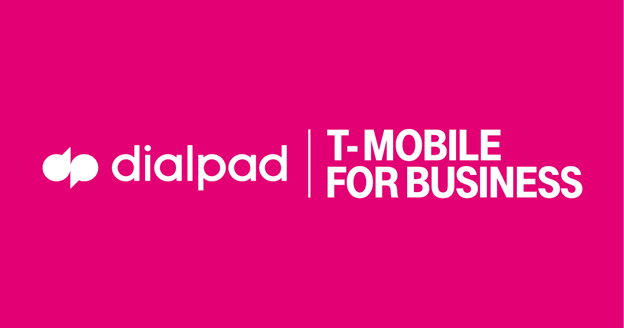 Website: https://www.t-mobile.com/business/solutions/work-from-anywhere
In 2021, T-Mobile partnered with Dialpad in what was marketed as "not just another reseller".
On launching T-Mobile WFX, this was not only a major win for Dialpad but also a major win for companies going through the process of enabling work from anywhere solutions.
Comprising three components:
Unlimited 4G and 5G data plans for enterprise mobility
Secure home internet to ready new home workers
Mobile-first UCaaS platform
The new all-in-one solution from T-Mobile will cater to the needs of those companies coming out of the coronavirus pandemic having learned how to not be prepared for home and hybrid working.
5 - Verizon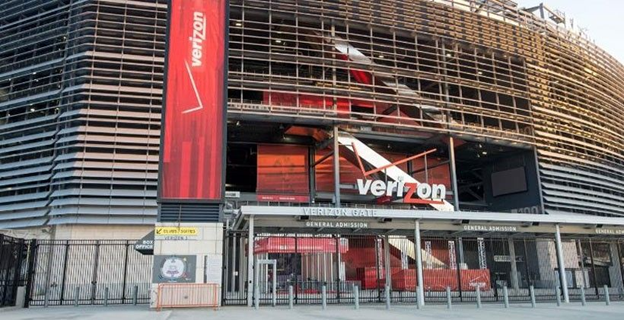 Website: https://www.verizon.com/business/
When Verizon bought BlueJeans in 2020, Fierce Telecom wrote it was "to beef up its business group as it rolls out 5G and targets new wireless applications at its business customers."
Fast-forward to today and Verizon has vertical and regional offerings that include Microsoft Teams, RingCentral, and Webex for collaboration, Webex for contact center, and a wide scope of meeting room solution technology.
Add into the mix its fully redundant data center pairs across three continents, 100% application availability with global geographic redundancy, and 24/7 monitoring and it's hard not to make a case for including Verizon in your unified comms procurement selection long list.
Unified comms hardware manufacturers
Our next batch of unified comms brands all provide hardware.
While the unified comms industry has gravitated towards software-based applications, hardware still plays a vital role in meeting rooms, mobile areas, and specific verticals like frontline workers.
1 - Poly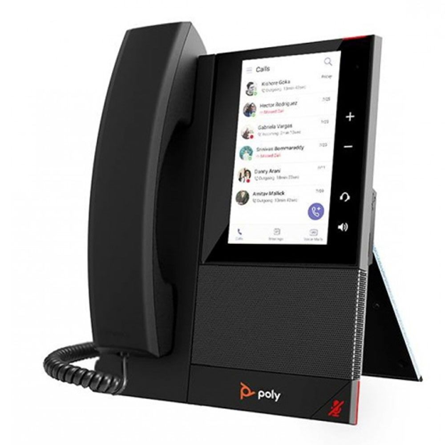 Website: https://www.poly.com/
Recently acquired by HP, and formerly an amalgamation of Polycom and Plantronics, Poly is synonymous with unified comms.
With a wide range of wired handsets, audio and video conference devices, and wired and wireless headsets, Poly is interoperable with a large number of unified communications platforms, ready for quick provisioning and deployment.
Its range of Teams-certified devices puts Poly top of the list when it comes to most compatible devices for Microsoft deployments.
2 - Yealink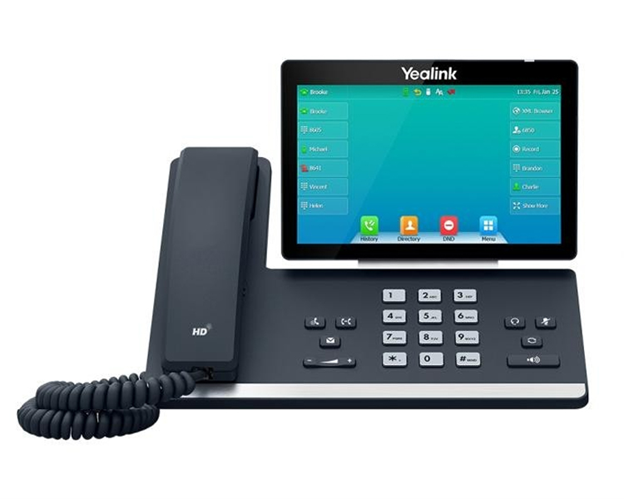 Website: https://www.yealink.com/en
Yealink is a specialist in video-enabled desk phones and meeting room solutions for Microsoft Teams and Zoom.
Inclusive of a device management platform, Yealink offers a competitive package when considering the entire TCO in your unified comms business case.
Featuring room scheduling and wireless presentation devices for large businesses as well as entry-level VoIP handsets for small offices, Yealink's diverse portfolio is always worth consideration.
3 - Cisco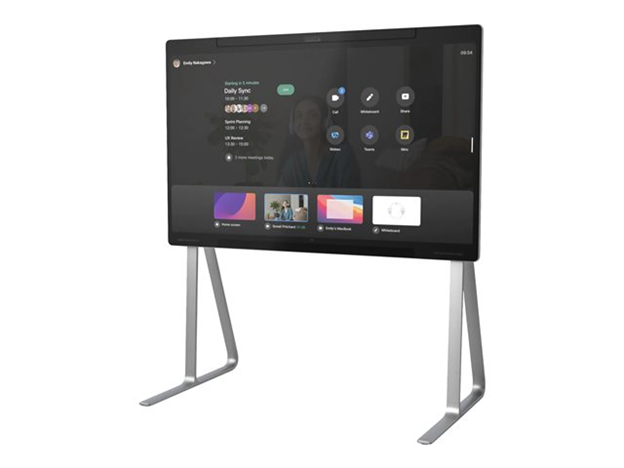 Website: https://www.cisco.com/c/en_uk/products/collaboration-endpoints/index.html
As well as being a leader in meeting software and UCaaS for the past decade, Cisco has an extensive history of providing communications hardware.
Be it the Webex Board for large meeting rooms, the Webex Desk Pro for executives based at home, or high-quality handsets and headsets, Cisco's equipment portfolio is up there with the best.
Taking a step outside Cisco's own portfolio, Cisco is working its way through the Microsoft Teams device certification process too.
4 - Neat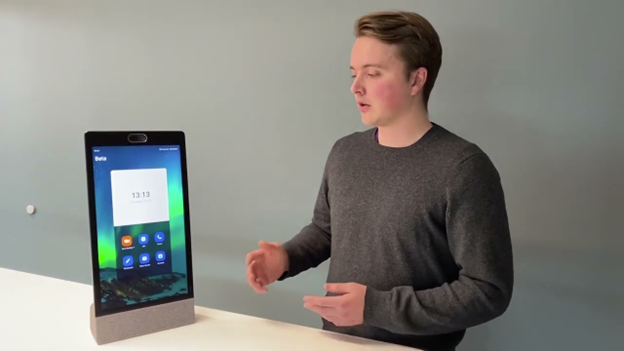 Website: https://neat.no/devices/
Neat's range of purpose-built devices for Microsoft Teams and Zoom are some of the slickest designs on the market. And they have the audio and visual technology inside them to back up the design.
Whether it's your hallway, meeting room, or auditorium, Neat's range of soundbars, room displays, frames, and boards will ensure your office spaces look and sound amazing.
5 - Spectralink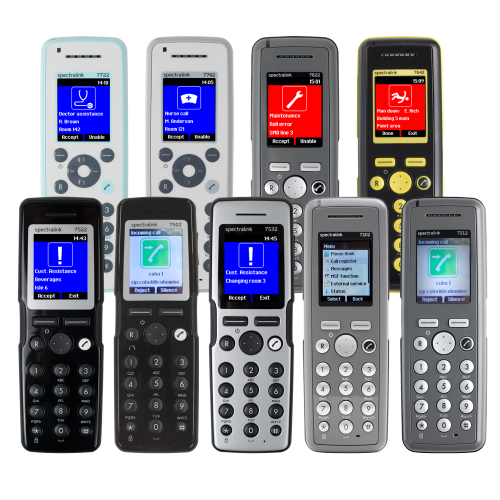 Website: https://www.spectralink.com/
Spectralink is a specialist provider of portable devices for unified comms deployments. Whether you need wireless handsets, ruggedized smartphones, or wide-range DECT solutions, Spectralink is available for platforms like Microsoft Teams, Webex, RingCentral, and Zoom.
Spectralink was first to market with its DECT for Teams solution in July 2022. With a direct integration to the Microsoft SIP gateway, admins can now provision a Spectralink DECT handset direct to their Teams phone system.
Unified comms integrators
Our final list of unified comms brands includes the core components that link everything together.
Research shows that 3.3 is the average number of workplace chat apps. Then throw in your calling provider, meetings provider, hardware manufacturers, and even shadow IT.
Ensuring an integrative approach to unified communications is the only way to genuinely unify your experience.
1 - Mio
Website: https://m.io
Mio lets you send messages cross-platform on platforms like Microsoft Teams, Slack, Webex, and Zoom.
Using its behind-the-scenes message interoperability technology, admins sync up channels and users who use different platforms. On the front end, users send messages from their preferred platform to their colleagues without the need for constant switching between apps.
2 - Mondago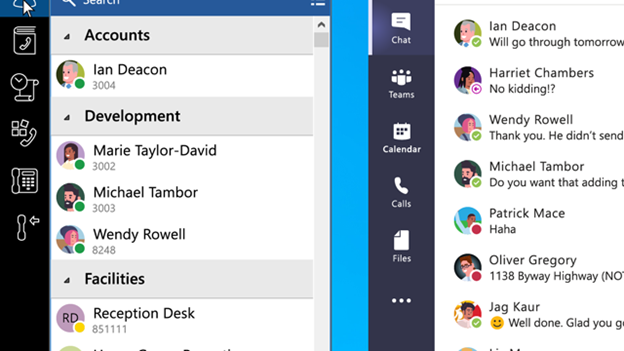 Website: https://www.mondago.com/
Mondago has built over 300 out-of-the-box integrations for CRM and line of business apps to enable functionality like screen pop and database lookups in your unified comms platform.
Mondago's flagship product, Go Integrator, has been providing easy-to-configure integrations for platforms like BroadSoft (now Cisco), Genband, and Microsoft Teams since 2000.
If you need extra features from your UCaaS platform but don't need a full-blown contact center, Mondago likely has an integration for you.
3 - Microsoft Teams Operator Connect partners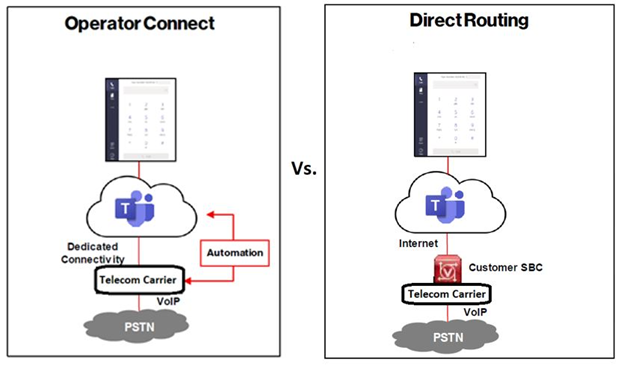 Website: https://cloudpartners.transform.microsoft.com/practices/microsoft-365-for-operators/connect
Operator Connect is an alternative to Microsoft Teams Direct Routing that allows customers to keep their existing contract for phone services and minutes while using the modern calling interface in their Teams clients.
Operator Connect partners include:
AT&T
BICS
BT
CallTower
CBTS
Colt
Cox Business
DSTNY
Enreach
equada GmbH
Fusion Connect
G12 Communications
Gamma
IntelePeer
Liquid
LoVo
MetTel
NTT
NuWave
Optus
Orange Business Services
Peerless Networks
peoplefone
PingCo
Proximus
Pure IP
Rogers Business
Sinch
Singtel
6 Degrees
TELUS Business
Verizon
Vodafone
VOX
4 - Vyopta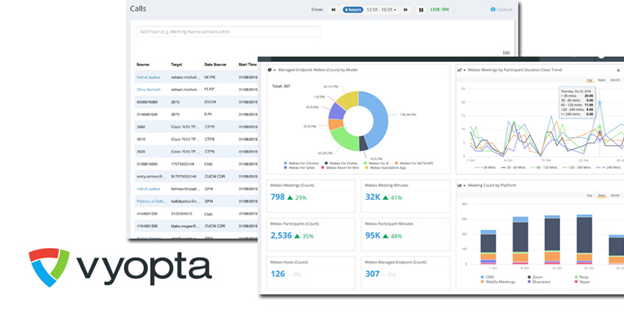 Website: https://www.vyopta.com/
Vyopta is a monitoring and analytics platform that measures the effectiveness and reliability of unified comms deployments.
With Vyopta, you can measure the efficiency of your meeting spaces, use of apps, downtime and causation of devices, all in a non-intrusive manner.
Vyopta is compatible with:
Microsoft Teams
Webex
Google
Zoom
BlueJeans by Verizon
RingCentral
Poly
Pexip
Dolby Voice
Lifesize
5 - Zapier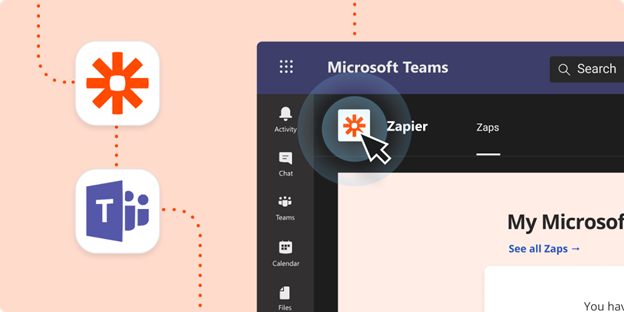 Website: https://zapier.com/
We end the integrators section with a curveball. But it would be remiss to ignore the largest automation app on the market.
Zapier has pre-built and custom integrations to link unified comms apps like Teams, Slack, Nextiva, and many more to other line of business apps like Google Sheets, Trello, and hundreds of other apps supported on its platform.
When two platforms are used frequently but work is often duplicated, Zapier enables "if this then that" triggers that then create an action on the corresponding platform—reducing duplication and effort.
Want to meet with unified comms brands like this? Registration for UCX USA in September 2023 is now open.